JIS Electronic Rubbing Fastness Tester HTC-004A-Six Loads-Supplier
JIS Electronic Rubbing Fastness Tester
JIS Electronic Rubbing Fastness Tester.Use the friction test machine according to prescribed methods, make the sample and tested cotton lawn rubbing fabric to rub each other.
Compare the stained cotton fabric and the grey scales of staining degree to judge the color fastness.
Model

HTC-004A

Test Station

6

Test Stroke

120mm

Test Speed

30±2r/min

Rubbing Head Pressure

2N (200g)

Extra Weight

300g

Rubbing Locus Distance

100±1mm

Rubbing Surface

R200 Curved Surface

Rubbing Head

R45mm,surface,approx 20mmX20mm contact area of 100mm2

The distance from the fixed axis center to rubbing finger center

110mm

Cotton Cloth Size

60mmx60mm

Counting Display

LED display,0~99999

Power

1∮ AC 220V 3A, 200W

Dimensions

330×550×350mm(L×W×H)

Weight

45Kg

Standard Accessories

6Pcs

weights

1Pcs

power line

Optional Purchase Consumables

SDC Cotton Lawn Rubbing Fabric, Grey Scales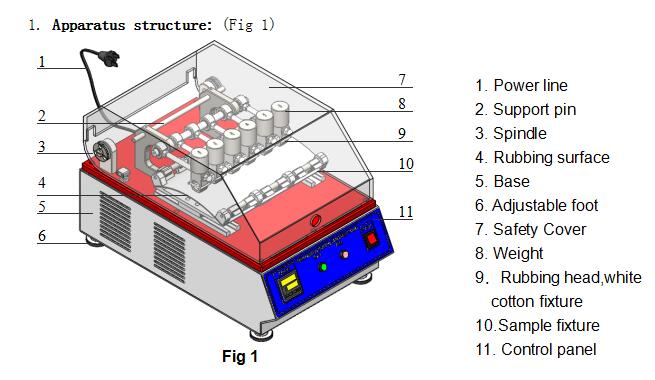 JIS L 0849 II, 0801,0823,,1006,1084,K6328,98136,JIS P-8136
JIS Electronic Rubbing Fastness Tester HTC-004A-Six Loads-Supplier
HTE-001 Suntest & Xenon Arc Testers
The Suntest & Xenon Arc Testers is a powerful Xenon Instrument for conducting accelerated tests of light fastness and photo stability tests.
It is designed as a tabletop unit with a microprocessor controller for simple operation.
Standard : AATCC TM16- Option 3
Xenon lamp:1500W
Energy display, measuring wavelength: 420nm
Record the xenon lamp elapsed time
controlled by microcomputer, The screen display more data.
Insolation area: 200*280mm
External 20L Water tank (Base type)
Power: 220V 50HZ
KVA: 4KW
Dimensions: 1080*700*950 mm (L*W*H)
Weight: 70Kg
Accessories: Specimen plate 1pcs, felt 1pcs, power line 1pcs
Air cooled Xenon lamp with 1.5 KW Measure, control and display of irradiance energy from 250 to 765 W/m²
Measure, control and display of black panel temperature ( BPT/BST) from 30℃ to 90℃.
Measure and display of test chamber temperature.
Measure, control and display of relative humidity % RH.
Setting and display the testing cumulative energy KJ/m².
Record the used hours of Xenon lamp.
Microprocessor control with data display, Programming with keyboard.